Print My Order Manual To Flyers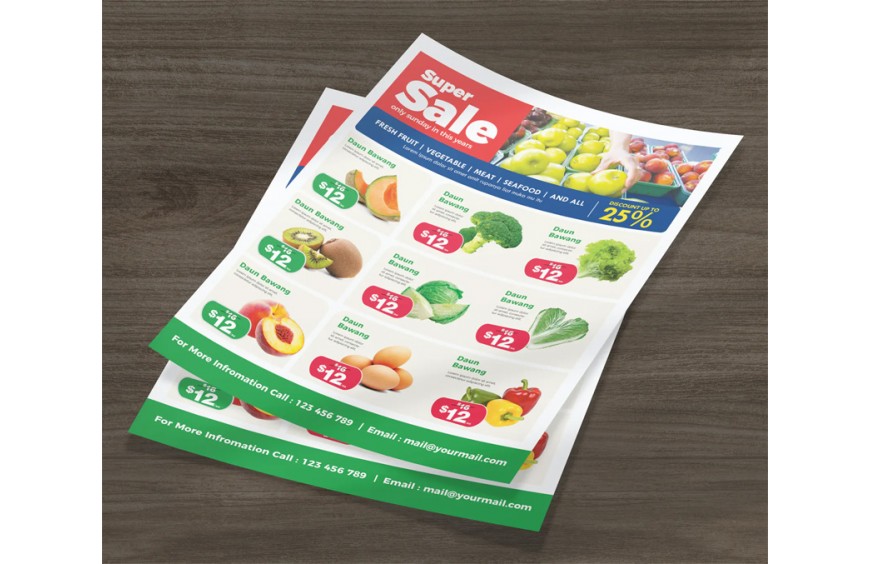 Print My Order Manual To Flyers
calendar_today20/04/2021
Are flyers an effective form of advertising ?
The complete manual for creating flyers for your business
Telling potential customers about your business is important, and professionally printed flyers will get your name out there. Whether smaller than a postcard or larger than a poster, flyers impress and attract everyone's attention. You're in luck if you're wondering how to market your business with flyers! Continue reading to learn how to make flyers for your business, including design tips, marketing strategies, and more.
The advantage of business flyers
Business flyers are great ways to promote your services and reach out to new customers. You can mail them, distribute them at special events,and post them in community centers; The possibilities are limitless.
Other advantages of business flyers include :

● They are inexpensive. Flyers can be printed in bulk for as little as a few cents each
● They have a pleasing appearance . A visually appealing flyer design keeps customers reading until they are ready to act.
● They are durable. Flyers have a long shelf life because recipients keep them. When readers come across your flyer again in their desks or on their shelves, you are spreading your message all over again.
Make flyers for your business: How to do it

You're in luck if you're wondering how to market your company with flyers because it's an easy approach. You may quickly create flyers that appear professional by just following these instructions.
Choose the right size –
Business flyers are available in a variety of sizes. The following are some of the most common flyer sizes:
· 4.25 × 5.5
· 4 × 6
· 5.5 × 8.5
· 4 × 9
· 8.5 × 11
· 8.5 × 14
· 11 × 17
· 12 × 18
Each flyer can be printed vertically or horizontally, doubling the number of sizes available. If you prefer a different size, please inquire with your printing company. They may be able to print the customised flyers you require.
Different flyer sizes are appropriate for different purposes. For example, Smaller flyers, are easy to distribute at events or at conference tables, whereas larger flyers work well when posted on a wall or billboard.
Catchy headings -
A appealing headline draws the reader in. Readers make an instant decision whether or not to read your flyer, and the majority base their decision on the heading. Simply put, without a well-written headline, few people will read your flyer.
Consider the following guidelines when creating the best headline flyers:
· Keep it brief and to-the-point. – Readers lose interest quickly, so make it clear why they should continue reading right away.
· Add a number –When readers can grasp information in your flyer headline, such as a number or a statistic, they understand that your article contains useful information.
· Start with a wh-word. : who, what, where, when, why (or how). - These words indicate that you will provide useful information to assist readers in answering a question or resolving a problem.
Condensed information
Information condensed flyers are small pieces of paper that only have one or two sides. You don't have much room to explain your product or service and persuade the reader to act, so include only the most important details.
When creating an effective business flyer, remember to:
· Include your contact information – Make it simple for readers to proceed.
· Edit carefully. – Do not print any errors that reflect negatively on your company !
· Make use of buzzwords –Conduct market research to determine which words will garner the most interest.
· Make a special promotion available –Consumers love deals and discounts, so include a special offer to entice readers to act.
ADD Call-To-Action –
Your professional flyer should be made with a specific goal in mind as you design it. Keep in mind that the main purpose of your flyer is to elicit a response, so it's critical to motivate readers to take the next step with an effective call-to-action (CTA).
Attentive Flyer Design –
It could be challenging to create the perfect flyer design, thus consulting a qualified graphic designer is advised. A skilled design team can provide the knowledge of graphic components to make your flyer stand out !
Here are some fundamental design element pointers in case you're wondering how to create flyers for your company:
· Use complementary colors - Readers are one step closer to reading your flyer when they love skimming it.
· Use a large font. - Large fonts make your message clear and are easy to read.
· Consider your background image. - Selecting a stock photo or bespoke image that conveys the feeling you're going for will give your flyer a focal point.
· Include your branding. Including your company's branding is crucial in all marketing materials. Make favourable brand associations with readers by letting them know they are engaging with your brand.
You're well on your way to designing flyers that matter if you keep all of these creation advice in mind !
With The Print My Order, create stunning flyers. -

Partner with the Print My Order when you're prepared to connect with your intended audience ! We know how to market your company with flyers thanks to our more than three decades of experience printing marketing materials for businesses of all sizes. We provide high-quality printing services that leave a lasting impact, as well as personalised web-to-print portals for simple purchasing and distribution. Our design staff can help you perfect every last detail.